Triple Wins Jackpot Scratch Card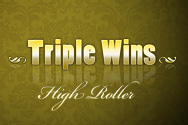 One of the easiest ways to immerse yourself into the gambling world is to play the scratch cards. They are fast becoming one of the most popular forms of entertainment in the online casinos and come in all sorts of forms and guises.
Triple Wins Jackpot is one such variation that can be found in the online world. The game screen has an elegant golden theme to it, accentuating the words Triple Win and Jackpot and it looks amazing.
The game screen is essentially split into two sections. On the right hand section of the screen are selections of tickets that are fanned out in front of the neck of a scarlet lipstick-wearing woman. In the top right corner of that section you will find details of the running jackpot total and in the top left you have an option called Scratch Tools. This option provides you with four different scratching tools ranging from a ring to the classic penny piece.
Your next task is to select a number of tickets from the fan that we spoke of earlier. Once you select a ticket is transports it and zooms in on the left hand corner of the screen. Each ticket consists of nine squares and you need to reveal three of a kind to win. To reveal your winning prize you place your scratch tool over one of the squares, hold down the mouse and simply rub the gold skin off to reveal the cash amount.
When it comes to online scratch cards this is one of the best versions on the market in terms of creativity and beauty.
Play Triple Wins Jackpot Scratch Card at Casino Luck

Triple Wins Jackpot Scratch Card